Saint John XXIII Catholic Parish will be holding their 2020 Carnival from Thursday, February 13th through Sunday, Feb 16th, located at the church grounds in Miramar. The four day carnival will have a midway with exciting rides for all ages, plenty of great food and treats, music, games, raffle (1st prize is a Volkswagen Tiguan SE!), and much more!
Pre-sale 4-Day unlimited carnival ride bracelets are on sale now for $60 each.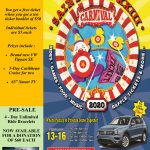 Hours
Thursday: 6pm – 10pm
Friday: 6pm – 11pm
Saturday: 12 noon – 12 midnight
Sunday: 12 noon – 10pm
Admission
Free admission and free parking
Event Sites & Contact
Please note that FL Carnivals does not operate, nor is affiliated with any event listed on this website.
Directions
Saint John XXIII Catholic Parish Church
16800 Miramar Pkwy, Miramar, FL 33027
Get Directions