The City of Oakland Park will be holding their 62nd Annual Youth Day Celebration on Saturday, March 9th.
The festival kicks off with the Youth Day Parade at 10am featuring themed floats, marching bands, and performers. Following the parade is the Youth Day Carnival at Wimberly Park which will have carnival rides, live music, delicious food, and fireworks.
Unlimited ride armbands are available for $20 each the day of the festival. Pre-sale armbands are $15 each, see the festival's webpage for details.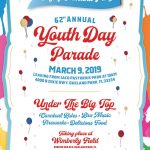 Hours
Festivities begin at 10am
Admission
Event Sites & Contact
Please note that FL Carnivals does not operate, nor is affiliated with any event listed on this website.
Directions
Wimberly Fields Park, 4000 NE 3rd Ave, Oakland Park, FL 33334
Get Directions