Immaculate Conception Catholic Church will be holding their annual Fall Carnival from Thursday, November 8th through Sunday, November 11th at the church grounds in Hialeah. The four day carnival will have exciting rides for all ages, delicious festival food, entertainment, carnival games, raffle (1st place wins $3,000) and much more.
Unlimited ride wristbands are available each night for $25 each on Thursday & Friday and $30 each on Saturday & Sunday. Discounted pre-sale ride wristbands are on sale at the school main office, CCD, and rectory. Discounted wristbands are $5 off regular price.
Four day ride wristbands are also available for $50 each which allow for unlimited rides on each day of the carnival.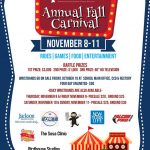 Hours
Thursday & Friday
5pm – 11pm
Saturday & Sunday
12 noon – 12 midnight
Event Sites & Contact