🕖 This event has passed!
This event ended on February 24, 2019
The Italian American Club of Venice will be holding their 31st annual Italian Feast & Carnival from Thursday, February 21st through Sunday, Feb 24th. The four day festival features continuous entertainment, a midway with carnival rides for all ages, delicious food including Italian cuisine along with festival favorites, and much more!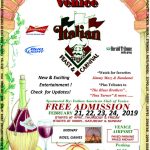 Hours
Thursday & Friday
Festival opens at 4pm
Saturday & Sunday
Festival opens at 12 noon
Admission
Free Admission
Parking $6
Event Sites & Contact