🕖 This event has passed!
This event ended on October 26, 2019
The City of Maitland will be holding a Fall Festival on Saturday, October 26th, from 2-5pm, located at Lily Lake Park. This family friendly event is geared towards children ages 2 to 8 years old and features activities including bouncy rides, carnival games, food, DJ Dance Off, touch-a-truck, train rides ($2 per rider), costume contest, and much more!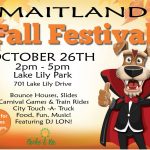 Hours
Saturday, Oct 26th
2pm – 5pm
Event Sites & Contact